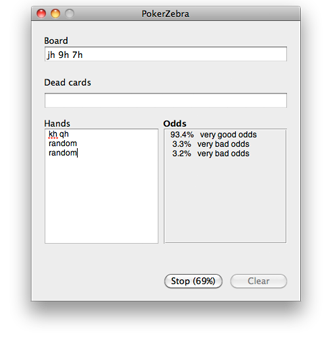 Evaluating a hand against unknown hands
You can evaluate a hand against an opponent who has any two cards, by using the word "random".
Putting a player on a range of hands
You can specify a player's range of hands in any of the following ways:


enter the word "random" to include any hand, omitting those using board cards or other players' cards
enter two specific cards, separated by a space: "Kh Qh"
two ranks: for example, AK, or TT
two ranks, followed by an "s" for suited hands only: AKs
two ranks, followed by an "o" for unsuited hands only: AKo
an open range. "TT+" means all pocket pairs with tens or higher. "A7+" means "AK,AQ,AJ,AT,A9,A8,A7"
a closed range. "77-KK" means "KK,QQ,JJ,TT,99,88,77"
multiple ranges separated by commas: "AA,AQs,77"